THE SCIENCE TRAVELER SERIES of Mysteries and Thrillers
GAMES FOR COUPLES
Scientist Sara Almquist is investigating the death of a man in a clinical trial conducted by a biotechnology company making cultured meat products—meat made in a test tube. Did lethal compounds in the cultured meat product kill the man in the clinical trial? Or did the toxic competition among biotechnology companies and spite of battling couples cause his death?
ISBN: 9781735421407
Bug Press in 2021.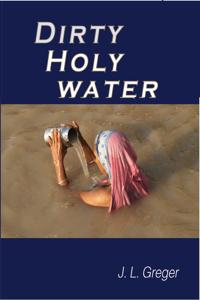 DIRTY HOLY WATER
Sara Almquist is about to become engaged and leave for a vacation in India when she becomes the chief suspect in the murder of a friend. Only the friend and her family, well to put it politely, have a couple of dark secrets. Sara soon realizes the difference between a villain and a victim can be alarmingly small, especially in a dysfunctional family.
The Kirkus review is: "A thought-provoking, disturbing, and engaging mystery with a likable, strong-willed female lead."
ISBN: 9780960028580
Bug Press in 2020.
A ticking package with the guts of animals is delivered to Sara Almquist. The police doubt it's a prank and think gang leaders are trying to prevent Sara from testifying at their upcoming trial. Sara thinks it might be a plea for help from a rancher after she learns the package is contaminated with the bacteria that causes the plague. However, she's afraid the police might be right.
Finalist for a 2020 New Mexico/Arizona Book Award
ISBN: 9780960028566
Bug Press in 2020
A hospitalized friend gives a puzzling note to Sara Almquist. He received the note signed "Red from Udon Thani" while investigating the movement of drugs from Cuba into the U.S. However, he doesn't know anyone called Red, and the last time he was in Udon Thani was during the Vietnam War. After Sara listens to his rambling tales of all the possibilities, both are attacked. He is left comatose. As she struggles to survive, she questions who to trust: the local cops, her absent best friend, the FBI, or a homeless veteran who leaves puzzling riddles as clues.
Finalist for a 2017 New Mexico/Arizona Book Award 
ISBN: 978-1938436239
Aakenbaaken & Kent in 2017.
A mysterious source of data on the Iranian nuclear industry sends an email from Tabriz. "Help. Contact Almquist." As Sara Almquist is drawn into the plan to identify and rescue the agent, known only as F, from Iran, she is forced to remember and re-evaluate characters from her student days at the University of Wisconsin-Madison and from her career as a globe-trotting epidemiologist. Which of her past decisions put her in jeopardy? Or is her current friendship with Sanders, a secretive State Department official, the real reason she's being attacked as she tries to rescue F?
ISBN: 9780960028542
Oak Tree Press in 2015. Revised. Bug Press in 2019